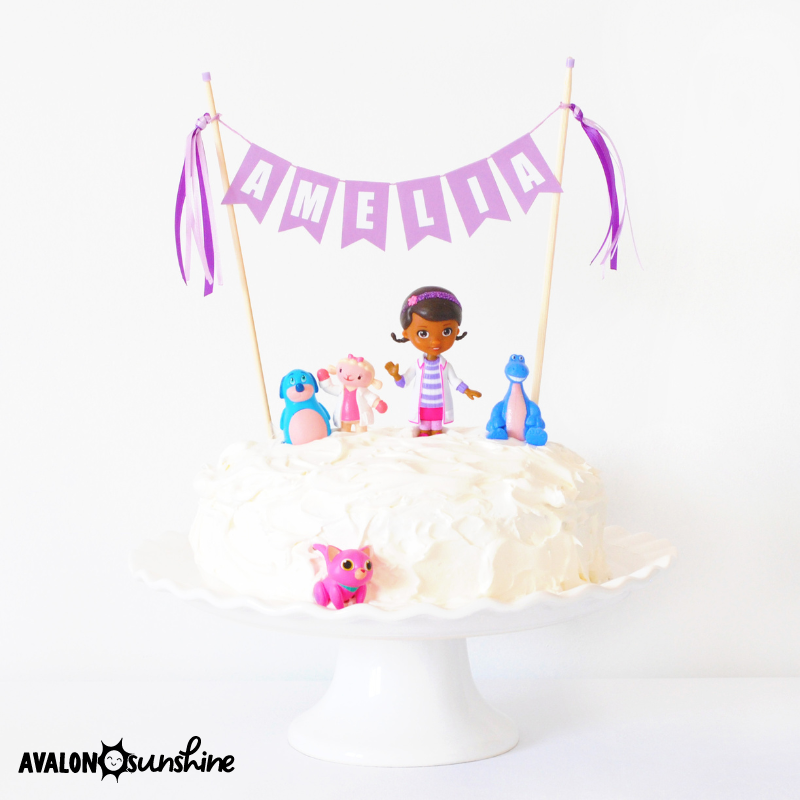 As a loving parent, when your kids have a birthday, you think about what they are really into at the moment…it may be firetrucks, or ballerinas, or a cartoon character.  Whatever that "thing" is, you probably ask yourself two questions: 
Would some sort of toy related to that "thing" make a good birthday present?
Would that "thing" make a good theme for the birthday celebration…cake, decorations, etc?
Roll those two questions into one!  Get some little toys which they are sure to love.  AND use those exact same toys to decorate the cake.  When you're done, the cake decorations are a gift to be played with.  And go ahead and let them lick the frosting off the toys....it is a birthday party afterall.  
This is the easiest way EVER to decorate a cake that your little one will LOVE.  Doc McStuffins is the star in this example, but you can really do this with any character. 
If the character stands up well on a flat surface, it will probably stand up just fine on a frosted cake.  But if the toy is kind of wobbly and wants to fall over, this is the easiest fix! 
Find some tiny plastic lids from food containers that are big enough to hold your wobbly characters.  Put the lids on top of the frosted cake, then cover them with more frosting until they disappear.  I have also used little plates from the kids' play kitchen for this purpose.  This gives the figures a sturdy place to stand.  Just remember to take them off before you cut the cake! 
If you want to add an extra-special touch, a personalized name cake topper is PERFECT!  You can order the cake topper with a name right here in any color that you want.
Avalon Sunshine cake toppers are the easiest way to decorate your cake without any stress or decorating skills. They work great for traditional and non-traditional cakes...home-baked and store bought cakes. LET'S CELEBRATE!