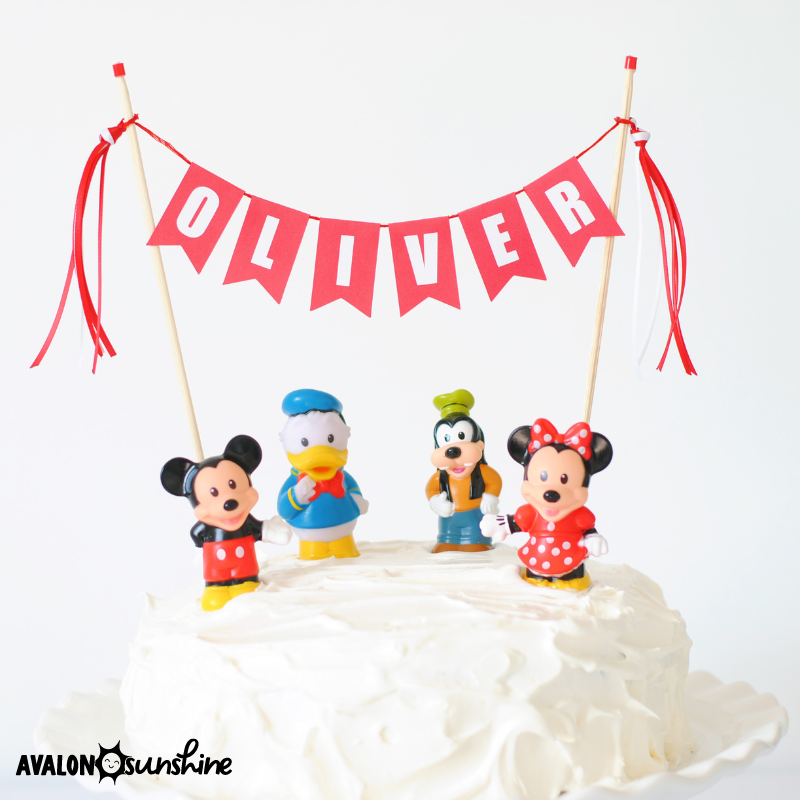 I'm going to BLOW YOUR MIND with how easy it is to decorate a cake that your little one will love. No piping bags or frosting tips required. 
Step 1:  Start with a plain cake…homemade or store bought.  Whatever you want.
Step 2:  Think about what cartoon characters make your child smile. Do they sing along and dance when the opening song comes on the tv?  Yep…that's the one.  The song probably gets stuck in your head too because you've heard it so many times. (It's the Mickey Mouse Clubhouse….Come Inside, It's Fun Inside).
Step 3:  Go to the toy box and look for little characters from that cartoon.  If you don't already have some, wouldn't that make a great birthday present to buy for your child?
Step 4:  Plop those cute little characters on top of the cake. 
Step 5:  Add a personalized name cake topper for that extra-special touch.
Step 6:  Sit back and enjoy the oohs and aahs from your party guests becuase you just decorated a FABULOUS cake with very little effort. Yay for you! 
Here is where you can order a personalized cake topper in your choice of 20 colors.  There is sure to be an option that matches your party plans! 
Avalon Sunshine cake toppers are the easiest way to decorate your cake without any stress or decorating skills.  They work great for traditional and non-traditional cakes...home-baked and store bought cakes. LET'S CELEBRATE!