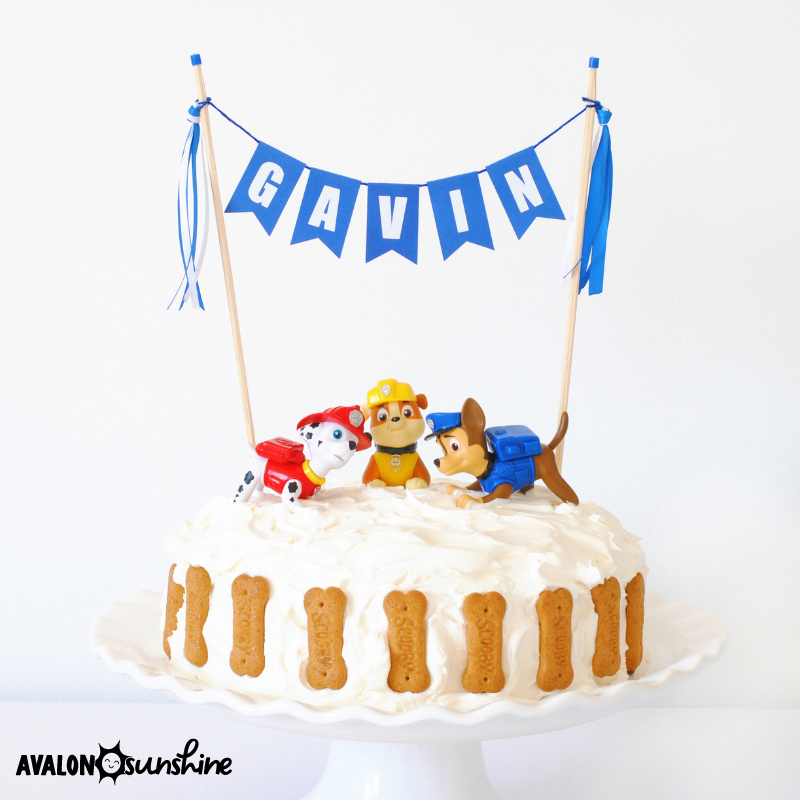 I think plenty of other mamas feel me when I say I feel like toys have taken over my house! Even though it drives me crazy, it's so hard not to let it happen. 
If you're planning a kids birthday party, BEFORE you run out the store and order a character-themed cake, take a look around at those toys cluttering your family room.  Can you use any of those little guys on top of your cake?  It's really super-simple.  You probably have the exact characters around that house that you would order on the cake anyway. 
This example is Paw Patrol, but the options for Toys on Cakes are endless. 
Find those little cartoon characters and arrange them on and around your cake.  Voila….awesome cake decorations!
I might be breaking some rules here about mixing cartoon characters, but let's go with it because these Scooby Snacks are goooood!  (They are cinnamon grahams and my local Target carries them).  The point is, they are shaped like dog bones and Paw Patrol is a show about dogs.  So, the frosting acts like glue and holds the little dog bones on the cake as a border.  Isn't it cute?
The name cake topper makes the cake even more special. 
Here is where you can order a personalized cake topper in your choice of 20 colors.
Avalon Sunshine cake toppers are the easiest way to decorate your cake without any stress or decorating skills.  They work great for traditional and non-traditional cakes...home-baked and store bought cakes. LET'S CELEBRATE!