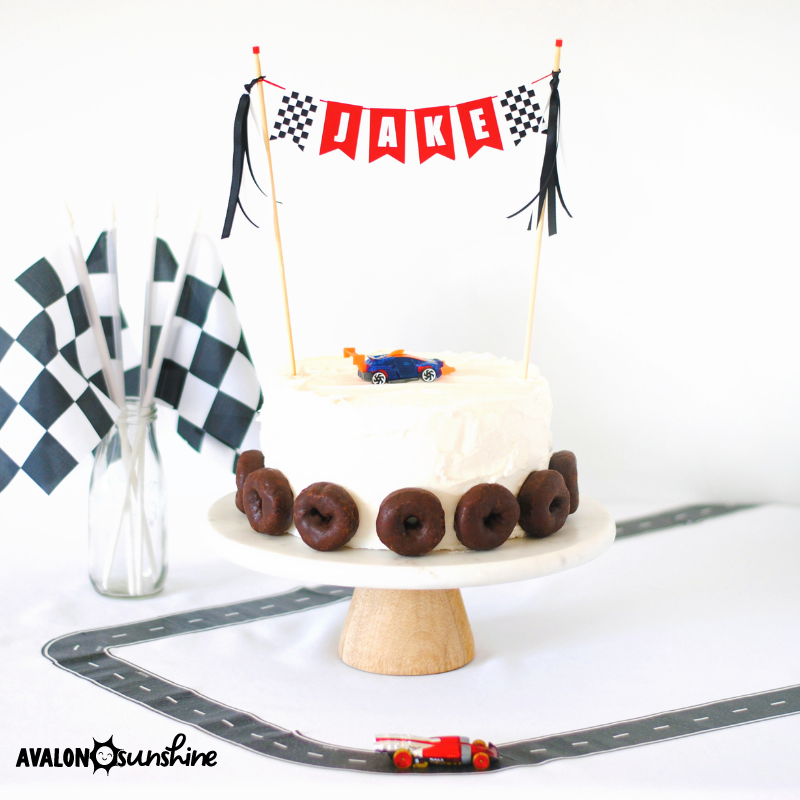 Do you have a tiny race car lover in your home? This simple Race Car themed birthday cake will be a hit! It's cute & delicious and can be decorated in minutes.  
This cake is as easy to put together as it looks!
You'll need mini chocolate donuts to trim the cake with little "tires". I did a deep dive in the name of research to find the best chocolate mini donuts.  Entenmann's was my taste winner but Hostess and Little Debbie were close behind!
Quick Tip: If your donuts have imperfections from being jostled in the box you can quickly fix that with a hair dryer! Just allow the icing to warm up enough to make it look smooth again!
The real winner of this cake is the Race Car Cake Topper  personalized with your little one's name and the mini checkered flags.  
If you have a boy running around your home, you probably have a race car (or a hundred!) that you can add to the top of the cake. I love to jazz up a cake with supplies I already have at home! 
The checkered racing flags and road tape were inexpensive, fun decorations from Amazon to finish off the decorations on the cake table. 
The racing flags  come in a box of twelve so you can easy add them to other spots in your home. If the flags come out looking a little wrinkled from the box you can easily fix it with a low heat iron.
The road play tape is great because it has a variety of the curved and straight pieces and it's a low stick adhesive! You don't have to worry about it damaging the surface of whatever you put it on.
Look how easy it all comes together! 
Quick Tip: If your little one is turning two, the party theme "Two Fast" has been super fun and popular right now!  Avalon Sunshine also has a cake topper for that!  
Avalon Sunshine cake toppers are the easiest way to decorate your cake without any stress or decorating skills. They work great for traditional and non-traditional cakes...home-baked and store bought cakes. LET'S CELEBRATE!