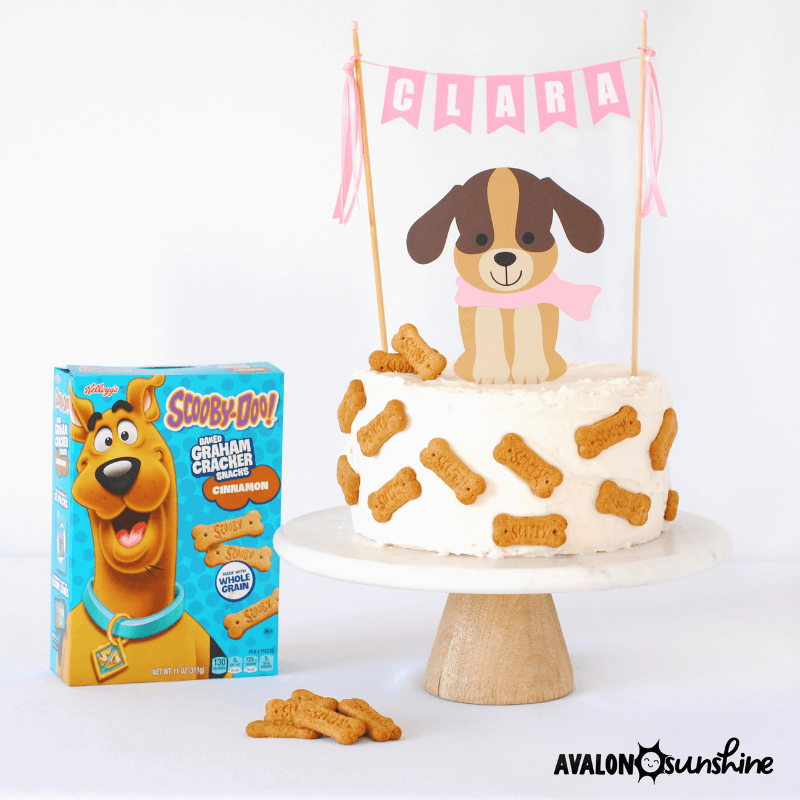 If you have a little puppy-lover at home, this birthday cake idea is a must-have for their next birthday celebration!  Whether it's a complete puppy-theme party or a small celebration at home with family, this little cake idea will surely make them smile.  And....it so simple, anybody can do this!  
This idea works with a simple homemade cake, or make it even easier on yourself by picking up a plain cake from your local grocery store. 
All you need to complete the look is a cake topper from Avalon Sunshine that includes the dog and the name banner, and a box of Scooby Snack graham crackers. (I found my box at Target)
These little snacks might look like dog treats, but I promise, they are people-food and the cinnamon flavor is so yummy! 
Place them on the cake randomly or make an organized pattern with them.  You really can't go wrong. 
When your order the cake topper set from Avalon Sunshine, you get a choice of red, blue or pink along with the name banner to match the puppy's scarf! 
 Ok!  Who's ready to PAW-TY??
Avalon Sunshine cake toppers are the easiest way to decorate your cake without any stress or decorating skills.  They work great for traditional and non-traditional cakes...home-baked and store bought cakes. LET'S CELEBRATE!