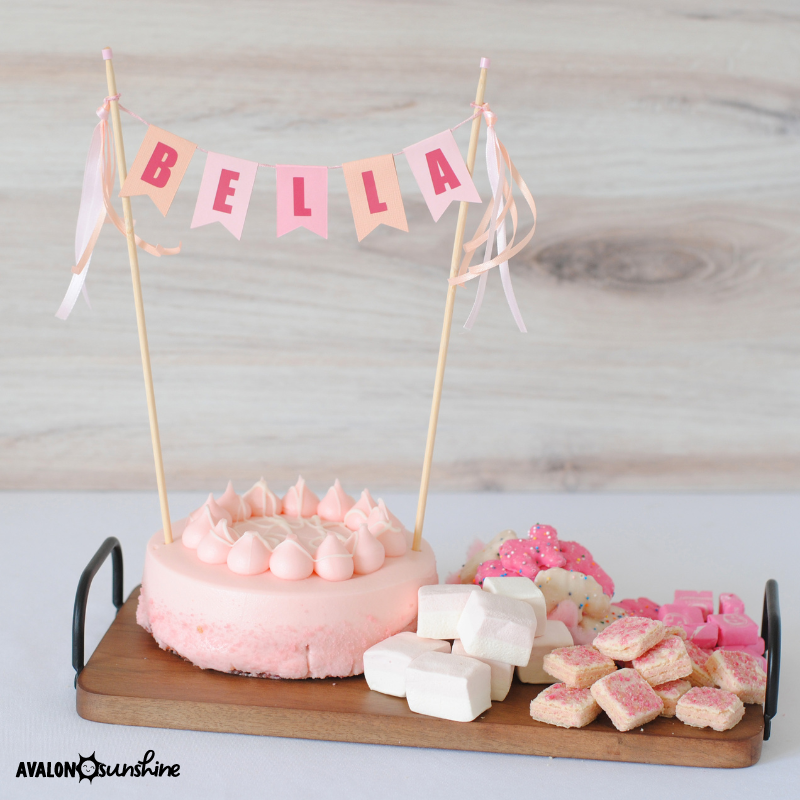 As adults we love a good charcuterie board filled with our favorite grab-able snacks. Why not create the same excitement for your little one's birthday party? It was so easy to put together this simple birthday charcuterie board and it looks so fun and festive! 
Of course you can go for whatever kind of treats your child loves, but keeping the foods in matching colors made this look fantastic! 
This perfectly sized 5" mini cake is from the Wal-Mart bakery. They always have them in the refrigerator case for less than $5, available in pink, white and chocolate frosting options. You can change up the size of your cake and board based on how many people you're serving. This tiny board would be perfect for a small group of 3-4 friends.
All of these items on the board came from the grocery store so it's simple to replicate. Even the mini board with handles came from Target. I used pink Starburst, Smash Mallow in strawberries & cream, Crispy Minis by Hostess, and Mother's Circus Animal cookies. I even added a little fluff of pink cotton candy under the cookies to add a little more texture and another snack option! 
But really, let's talk about the name cake topper.  This is what makes the whole board feel fit for a celebration!  There are so many fun color options available for personalized cake toppers in the shop the will absolutely be something to match your party theme.  
Avalon Sunshine cake toppers are the easiest way to decorate your cake without any stress or decorating skills. They work great for traditional and non-traditional cakes...home-baked and store bought cakes. LET'S CELEBRATE!