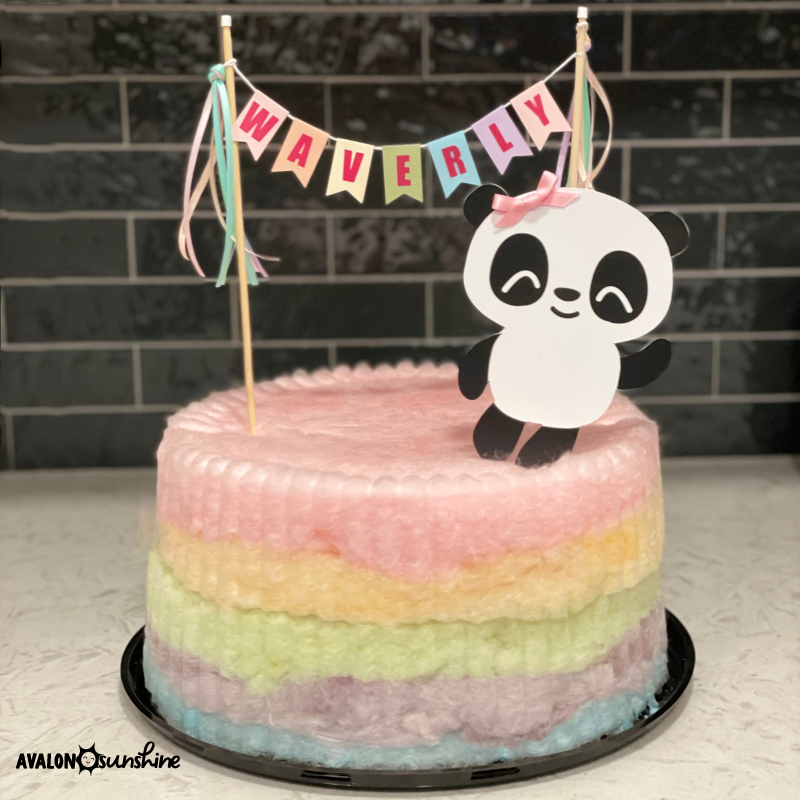 What's better than cake? A cotton candy cake! These are the latest trend in kid's birthday cakes!  It's pure cotton candy, shaped into the form of a cake! 
My niece had a birthday and celebrated with a cotton candy cake. She was so excited she was literally dancing on the table! The cotton candy cake pairs perfectly with Avalon Sunshine's Personalized Cake Toppers! My niece had a mix and match with our Panda and Pastel Rainbow Name Cake Topper! You can always mix and match to fit your exact theme for your party! 
Here is where you can order your own personalized cake toppers from Avalon Sunshine: 
The amazing cake pictured here came from The Pixie Cart. They create these unique and fun cakes that are made with one ingredient, cotton candy. The layers are pressed together and as you can see in the picture, it slices just like a cake would. You can get the cotton cake customized to different colors as well. Add a cute personalized name cake topper and your party cake is ready to go!
In addition to the cotton candy cakes that can be picked up locally in Plainfield, IL, the Pixie Cart has a Cotton Candy Cart and Popcorn Cart available for special events. They also do amazing custom party favors….seriously, you should scroll their Instagram for gorgeous party inspiration!

The Pixie Cart has been in business and serving up fluffy, sweet goodness since 2020 and serving the Chicagoland area and events in WI and IN.

If you're not lucky enough to be in the local area but absolutely MUST have a cotton candy cake, try etsy.com for some cotton candy cake makers that ship nationwide.