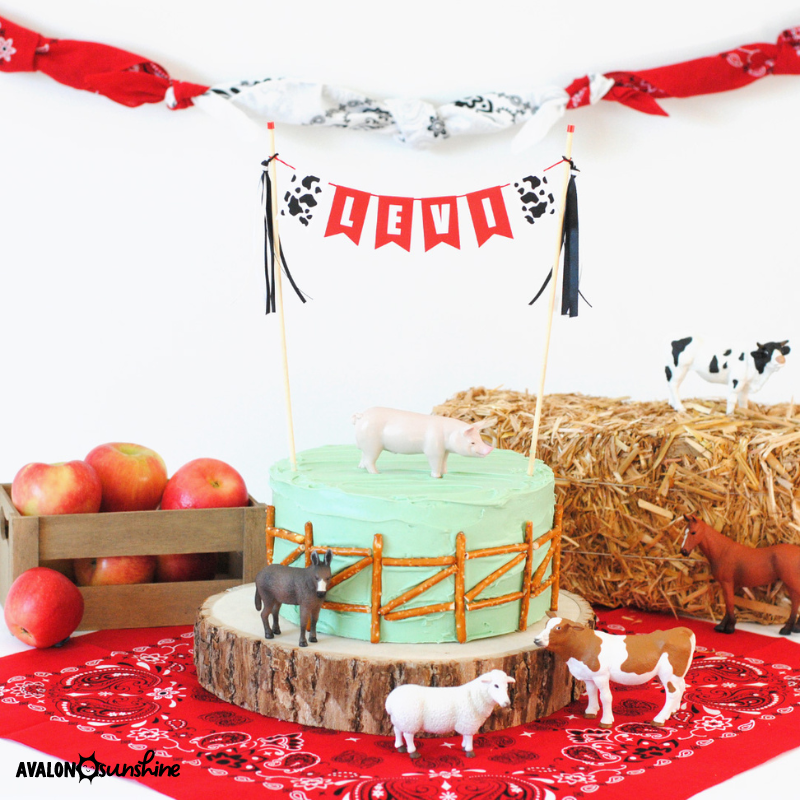 A farm birthday party is the perfect theme for little ones who are into animals, the great outdoors, and having a good time. It's timeless, it's classic, and it's sure to create some udderly unforgettable memories!
You can make a farm-tatsic birthday cake to be part of your celebration, even if you don't have any decorating skills.  Take a look at the simple steps below.  And if you're here just for the cake topper, here's a quick link to shop: 
Step 1 - Pretzel Fence for Farm Birthday Cake
Whether you're baking a cake or buying a ready-made cake from the grocery store, you can set the scene for your farm with a sweet little pretzel fence.  All you need is a bag of mini pretzel sticks and a serrated knife. 
I used a full pretzel stick for the vertical pieces, the horizontal pieces were the shortest and the diagonal pieces were a length in between.  Depending on the height of your cake, you can experiment and see what works best for you.  
TIP: Gently saw back and forth with the knife.  Pressing down hard with the knife may make the pretzel break in the wrong spot. 
Step 2 - Little Animals for Farm Birthday Cake
After you have a fence for the animals, it's time to move them in! I used the Terra brand from of Amazon and liked the detailing and authentic look that they have.
My favorite party hack is using something I already own, so make sure to look for animals that your child may already have! Add them on top of the cake, or if they are tricky to stand up on the cake, add them to the table around the cake works just as well. You can add a mini hay bale and a crate of apples to the table for a fun farm vibe. 
Step 3 - Cake Topper for Farm Birthday Cake
It's no secret that kids love to see their name on something.  It just feels so special and adding a cake topper is just the easiest way do this (a million times easier than piping a name with a frosting bag)  This cake topper has a cute cow print flag on each end to go with the farm theme.  
Here's
where you can order one for your cake, with your child's name on it! 
Step 4 - Bandana Garland for Farm Party
If you're like me, you love a quick and inexpensive party decoration! This bandana garland cost $3 and was done in less than 5 minutes!
Roll up each bandana and tie a knot in the center.
Connect them by tying the end of one into a knot with the next one. 
Make it as long as you want and use whatever colors you want.  So EASY! 
That's it!  You're ready for a fun day at the party farm without overspending or taking up an entire week to get ready. 
Avalon Sunshine cake toppers are the easiest way to decorate your cake without any stress or decorating skills. They work great for traditional and non-traditional cakes...home-baked and store bought cakes. LET'S CELEBRATE!