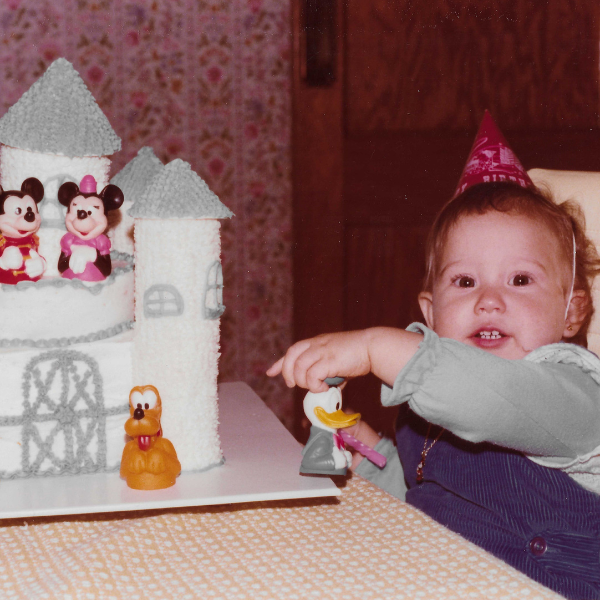 This was my 1st birthday cake, lovingly made by my mom in 1979. 
Talk about setting unrealistic expectations for what a cake should be! She made amazing cakes for every birthday in my childhood. I loved to help in the kitchen and always thought I'd do things like this for my kids too. Making special birthday memories and magical moments for the photo album.
My love of baking continued into adulthood, but I had never decorated cakes. So while I was pregnant and in my nesting phase, I took a Wilton decorating class and realized three things.  
I despise filling piping bags with frosting
I don't have a steady hand to do fancy decorations
I don't have the patience or desire to work on that skill
When my kids were little, I played with making a few fondant cakes. They were the hottest cake trend of the early 2000's. My cakes were cute-ish, but not structurally sound and for sure I spent too much money on fondant that gets peeled off the cake and thrown away.
I was done with that! I continued to make plain old cakes for my kids and added lots of sprinkles to make it look cute in just a few minutes. It was enough for the mandatory birthday cake photo each year, but a little part of me wished they looked more special.  
In my family, I'm the baker for all of the family gatherings and I love that role. If given the choice between baking something and buying a dessert, I will choose baking every time. But I was always looking for creative ways to make my cakes look pretty and special without filling a piping bag or rolling out fondant.
One year for my sister's birthday celebration at my house, I decided to make a cake topper with her name on it. I made a Jell-o cake that year so I frosted it with Cool Whip in about 30 seconds. I added the cake topper and it INSTANTLY made the cake into something much more special and personalized. 
I knew I was on to something good! I had to share this with other busy moms who needed that special birthday magic but done in an EASY way!
This is just a small sampling of the cake toppers we have celebrated with over the years in my family.  Yummy cake. Cute Decorations. No Stress. 
For celebrations big or small, personalized cake toppers are THE answer!  You can take a plain cake and make it personalized and special in seconds. 
If baking isn't your thing, this is just as great on a grocery store cake!  No need to buy a fancy bakery cake and no need to worry about your own decorating skills not living up to the expectations.
Find a cake topper for your next celebration in the shop! 
 
Avalon Sunshine cake toppers are the easiest way to decorate your cake without any stress or decorating skills.  They work great for traditional and non-traditional cakes...home-baked and store bought cakes. LET'S CELEBRATE!