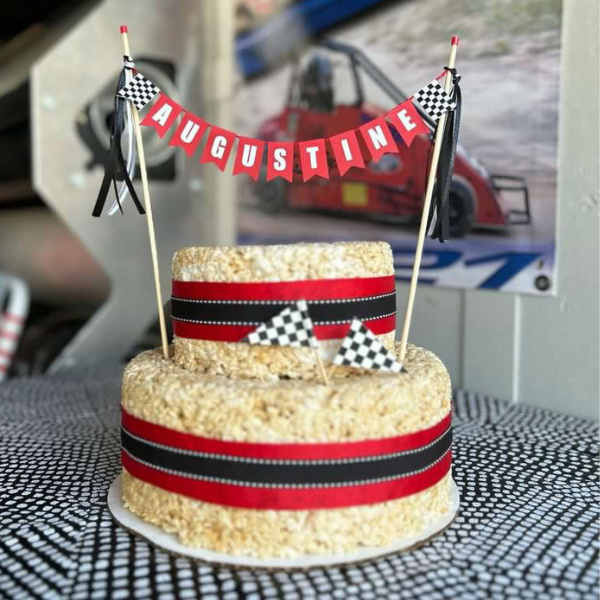 Rice Krispie Treats! The beloved no-bake treat enjoyed by sticky-faced kids everywhere. Also enjoyed by adults who are transported back to their childhood with one bite into the sweet marshmallow-y goodness!  
My friend Samantha made this Rice Krispie Treat cake for her son's birthday and it's perfect in so many ways! 
It's an alternative for someone who doesn't love traditional cake with frosting.
When you're going to celebrate outdoors in the summer and don't want to worry about your cake melting into a puddle of goo. 
With simple fabric ribbon around the layers of cake, you can easily make this cake match any celebration. 
To make the cake even more special, a personalized cake topper from Avalon Sunshine can be added in just about any color or theme you can think of.
This cake is SO EASY to make. It's literally Rice Krispie treats pressed into round cake pans instead of a rectangle pan.  You can follow the recipe on the cereal box or make a fancy variation with other flavor add-ins.  ANYBODY can do this!!  No baking skills required.  You don't even need to use the stove if you want to melt your marshmallows in the microwave! 
Make sure you spray the cake pan with non-stick spray before filling with the treat mixture. Then let it set up for a couple of hours at room temp before flipping the cake out of the pan. Voila! Birthday cake! 
Depending on the size of your pans and the number of layers you want, you will need to double or triple the standard size recipe.  If you want to add ribbons like the photo, you can secure them on the back side of the cake with a couple of straight pins.  
There is no doubt your guests will love eating the cake and it's so EASY to make it look special. 
Avalon Sunshine cake toppers are the easiest way to decorate your cake without any stress or decorating skills.  They work great for traditional and non-traditional cakes...home-baked and store bought cakes. Let's CELEBRATE!