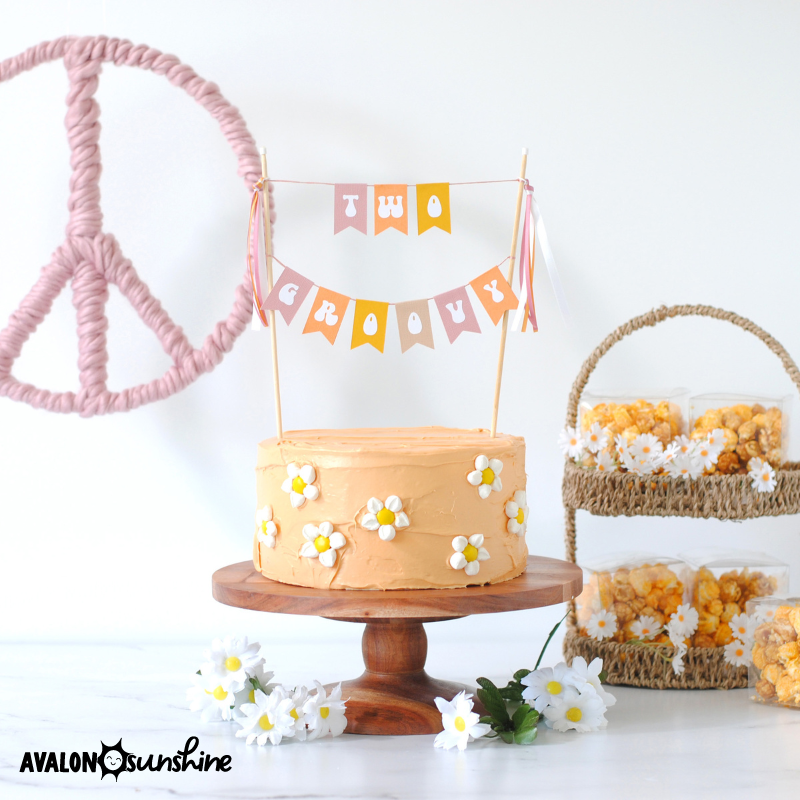 Two years old and TWO GROOVY!  This retro party theme is full of daisies, peace signs, and lots of nostalgic fun!  Avalon Sunshine ideas are always the easy, anyone-can-do-it sort of projects and decor, so if you're looking for simple, groovy ideas, you're in the right place! 
1. The Daisy Cake
Isn't this cake so fun?  It's so easy to make a plain cake match your theme with a
TWO GROOVY cake topper
!  Shop at the link below. 
The little daisies on the cake are made out of mini marshmallows and M&M's!  It seriously took 10 minutes to do all of the decorations and it's one stop at any grocery store to get the supplies! 
Start by cutting a bunch of mini marshmallows in half, lengthwise. 
They should look like this after cutting in half.  The scissors and the sticky texture give it that flower petal shape. 
Next, cut off a little bit of the point on one end of each piece. This will leave a sticky edge exposed to help it stick to the M&M's. 
Then arrange the petals (5 marshmallow pieces) around an M&M and give it a little smoosh toward the center to help it all stick together.  That's it!  You have your first daisy! 
Repeat to make as many daisies as you want for your cake and start sticking them to your frosted cake! So cute and so easy!! 
2. DIY Yarn Peace Sign Decoration
This little peace sign party decoration was quick and easy to make, inexpensive, and can be used as a wall decoration after the party.  That makes it an all-around no-brainer project! 
Supplies needed are:
Chunky yarn in the color of your choice
Dowel Rod (I used 1/2" but width isn't too important)
Metal Hoop (Any size) You can find these in the floral dept at craft stores
Cut the dowel rod into 3 pieces.  The first piece should be equal to the size of the inside of the hoop.  The two smaller pieces should be approx. half the size of the longer one. 
The fancy way to do this would involve cutting the ends of the smaller pieces at an angle so it can match up with the big piece without leaving a gap.  But I didn't want to mess with angles, knowing that it would all be covered up by yarn in just a few minutes. So, a straight 90 degree cut is just fine!
Next, get that glue gun warmed up and glue the dowel pieces to the hoop and to each other to make the peace sign.  It's totally fine to use extra globs of glue to make it stay in place because you won't be able to see it under the yarn. 
As soon as the glue dries, you can tie the yarn to the hoop and start wrapping it around and around.   
You can see in the picture above that instead of wrapping the whole skein of yarn around the hoop, I rolled the yarn into smaller balls.  This made it easier to wrap through the smaller sections of the peace sign.
That's all there is to it!  Wrap until you can't see any more of the hoop or the sticks.  If you come to a spot that is already wrapped in yarn and you need to move to a new section, just split the yarn into two strands and tie a knot to finish it off.  Then re-start in the new section. 
When you're all done, tie a final knot and you can use a little dab of hot glue to secure the knot.  I hung this one with dental floss from a 3M command hook. 
3. Party Snacks 
The options are limitless for party snacks, but I thought Chicago Mix popcorn was a great match to the colors of the party.  With a mixture of cheesy popcorn and caramel popcorn, you get the orange and beige colorway that matches the retro vibe perfectly! 
 A sweet and simple retro party for your little one who is TWO GROOVY!  
Avalon Sunshine cake toppers are the easiest way to decorate your cake without any stress or decorating skills.  They work great for traditional and non-traditional cakes...home-baked and store bought cakes. LET'S CELEBRATE!