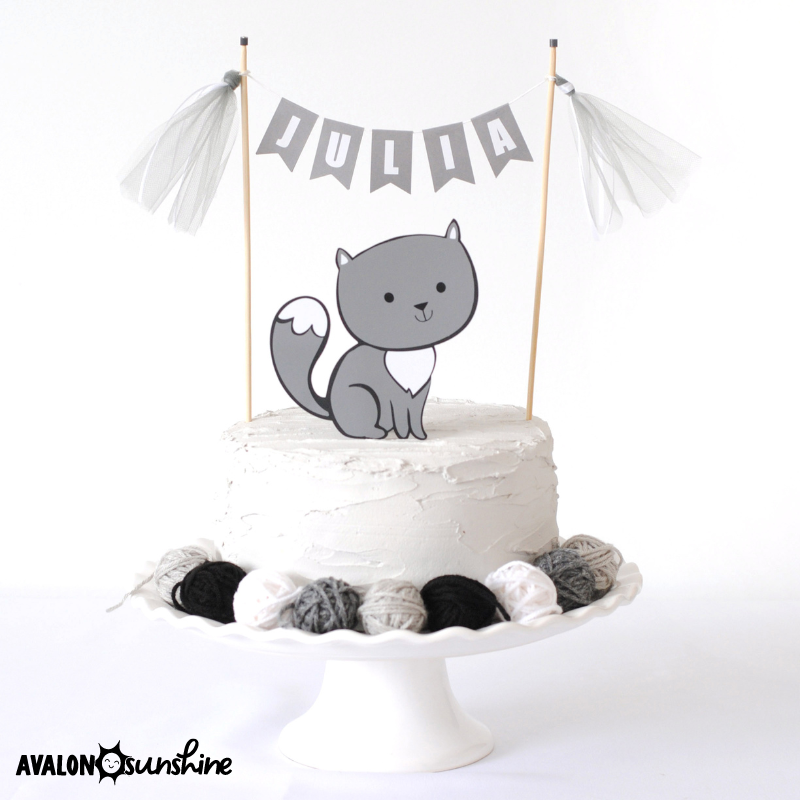 Helloooooo cat-lovers!  This cake decorating is so simple, it's pretty much impossible to mess it up! Start with a plain homemade or store bought cake. The cat topper and personalized name topper make the cake look adorable with almost no effort.  You can order the cake topper set here. 
The only other decoration on the cake is the mini balls of yarn.  This is simple enough that ANYBODY can DIY!  
There's not much to it.  Pick 3 or 4 colors of yarn.  Pull the yarn out of the full skein and start rolling it into a little ball.  Keep going until it is the size you want.  The yarn balls in this pic are about 1.5 inches each. So cute! 
The size of your cake will determine how many mini-balls of yarn you need to roll.  The 9" round cake in this pictures needed 18 balls of yarn to go all the way around. 
You don't want yarn fuzz to get in your frosting, so put a long strip of wax paper or parchment paper all around the bottom of the cake. It only needs to be about 1 inch tall to protect the cake. 
Then put the mini yarn balls all around the cake plate, alternating colors. 
It's purrrrr-fect!  It doesn't get much easier than that!  You can order your own cat topper and personalized name topper right HERE!
Avalon Sunshine cake toppers are the easiest way to decorate your cake without any stress or decorating skills.  They work great for traditional and non-traditional cakes...home-baked and store bought cakes. LET'S CELEBRATE!