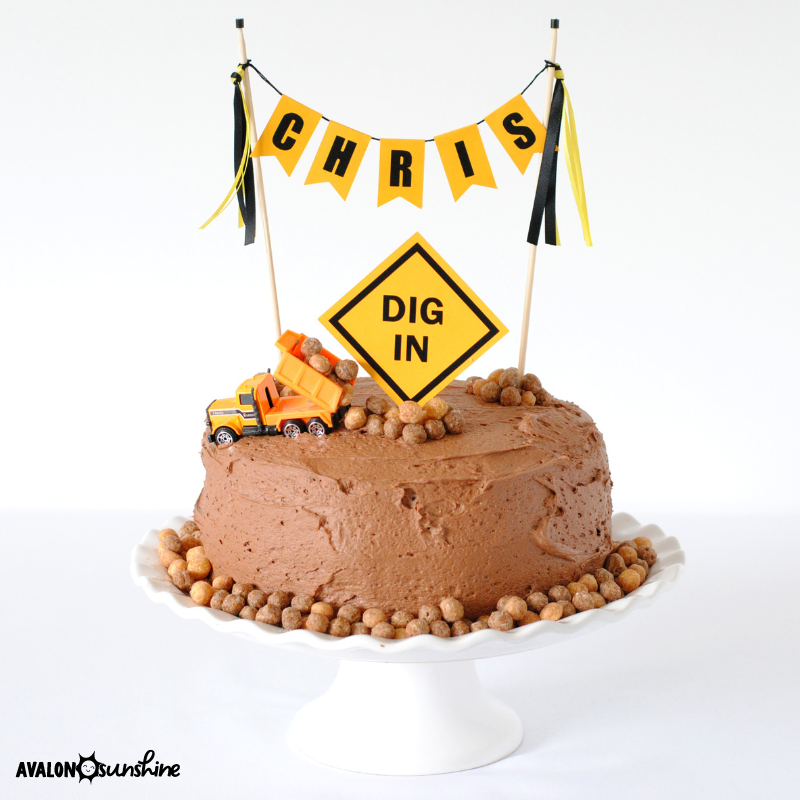 Stop the traffic, close the roads and everybody DIG IN to that birthday cake!  Is there anything that screams "little boy" more than digging in the dirt with bulldozers and dump trucks? That's what makes a construction theme party so perfect for 2, 3 and 4 year old boys! 
The obvious choice for the base of your cake is CHOCOLATE...because....dirt and mud! Dirt comes in all shades so take your pick: chocolate buttercream,  dark fudge frosting, chocolate ganache...if it's brown, it works! 
Adding a personalized cake topper with the DIG IN construction sign already makes it look ready for the party, You can order your personalied topper HERE.  And keep reading for more simple ideas to take it to the next zone of awesomeness. 
I'll admit, I'm a grown woman who sometimes eats Reese's Puffs for breakfast.  My husband calls it "candy in a bowl" which it kind of is.  BUT, it is perfect for making rocks to decorate the construction cake.  
My cake plate has a raised edge which holds the cereal in place all around the edge of the cake.  But you can accomplish the same thing by using some extra frosting to help them stick to each other all around the cake.  For the little "dirt mounds" on top of the cake, I used a some frosting as glue to stick each piece of cereal where I wanted it.  
If your kid is into trucks, there's a good chance you already have a little construction toy you can add to the top of the cake.  Or, make it part of his birthday present and buy a set of little trucks.  The dump truck is filled with more cereal "dirt". 
If you're looking for decorations beyond the cake, CAUTION tape is the perfect decor! You can get a huge roll for under $10 on Amazon. And it's weatherproof so you can welcome your guests with the theme in front of the house too.  
One final idea that you can steal for just about any party theme is to make a garland with paper napkins. The garland on the front of the table is made of party napkins from Target draped over a piece of string.  So simple! 
You can order your personalized construction cake topper right here.   
This is another fun construction birthday cake idea to inspire you. It started as a Costco chocolate cake and it was de-constructed into this construction site by an Avalon Sunshine customer!  
And here's another one...  This one is a homemade cake from a mom who says she can't decorate cakes. She was so proud of this cake for her little guy's 2nd birthday! 
Avalon Sunshine cake toppers are the easiest way to decorate your cake without any stress or decorating skills.  They work great for traditional and non-traditional cakes...home-baked and store bought cakes. LET'S CELEBRATE!