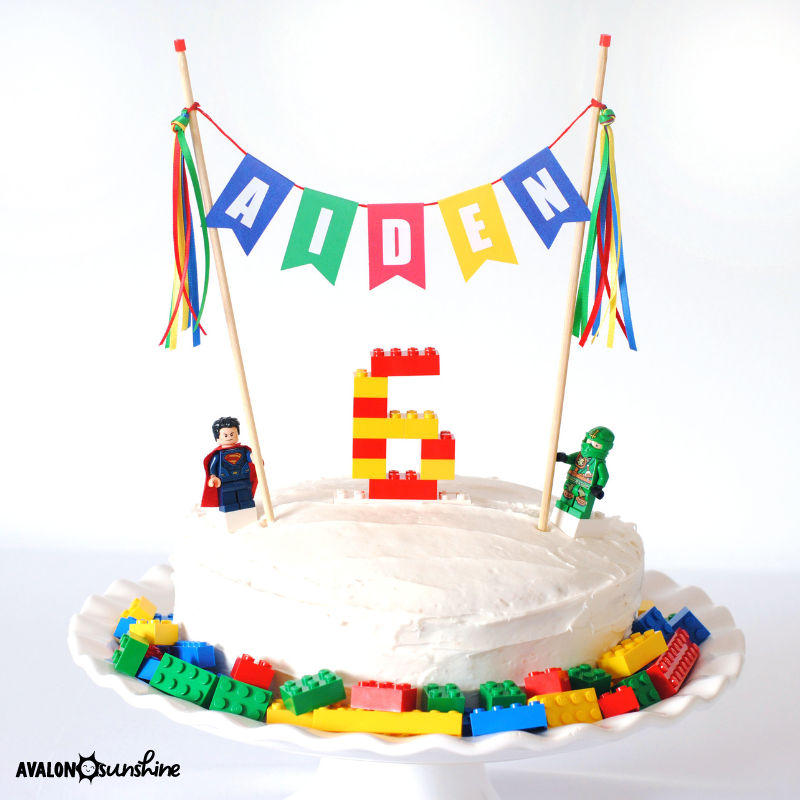 Lego is one of the most-loved, classic toys in the world!  We LOVE Lego in my house!  There are some really amazing cake ideas out there for a Lego Birthday Party....if you're willing to sculpt and mold a bunch of little bricks made of candy or fondant. I'm just not so I'm going to share my EASY ideas with you.
First thing...if you already know you're here for the name cake topper in perfect Lego colors, here's the link to shop: 
On to the rest of the party details!
I love decorating ideas that are:
Simple enough that anyone can do it.
Quick enough to finish in 15-20 minutes.
Using some supplies you already have around the house. 
So here we go....Dig into your kid's toys and load up the edges of your cake plate with real Lego bricks that have been washed with dish soap. I removed all the littlest pieces to make it easier when it's time to serve the cake. I also stuck to the basic, bright-colored pieces to make the cake look extra-cheerful. (Sorry brown and beige Lego pieces, not today.)
The Lego Minifigures are attached to white Lego bricks to give them a sturdy base to stand up on the cake.  Add more minifigures on the cake or on the table.  The more the merrier! 
The next super-simple idea is turning plain yellow paper cups into minifigure faces with nothing more than a black Sharpie marker. What? That's so easy! 
Lego can have all kind of different expressions, but I like the original face the best and it's the easiest to draw.  It's just 2 circle eyes and an arc-shaped mouth.  The OG of minifigures.  
How about another cake decoration that doesn't cost anything?  Build the number of the child's birthday out of Lego bricks!  So fun!  In case building isn't your thing, here's a picture showing you how to build each number.  They are just the right height for the top of a cake.  
Tip:  If the number wants to fall over, you can stick a toothpick into the cake right behind the Legos for a little extra support.  
And last but not least....that personalized cake topper by Avalon Sunshine is the perfect finishing touch!  You can position your own minifigures to look like they are helping to hold up the cake topper. 
Click here to shop for the personalized cake topper with your child's name.  This color combo is colorful, fun and a perfect match to Lego bricks.  Bonus, you can even save the topper and re-use it year after year. 
Avalon Sunshine cake toppers are the easiest way to decorate your cake without any stress or decorating skills.  They work great for traditional and non-traditional cakes...home-baked and store bought cakes. LET'S CELEBRATE!