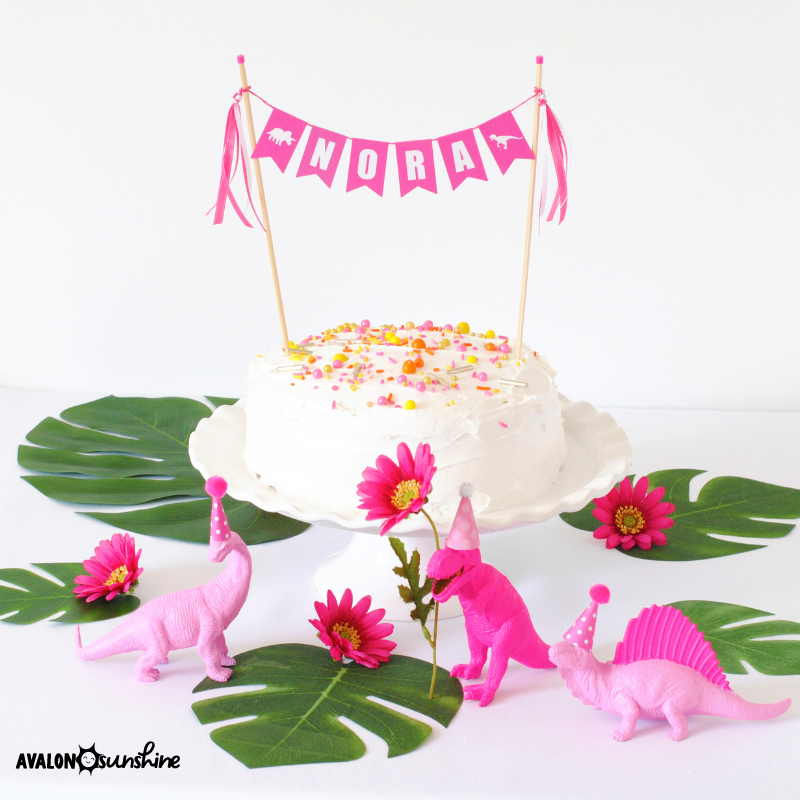 Maybe it's because of the new Jurassic World movie this summer, but the dinosaur cake topper orders in my shop have been through the roof! I get especially excited when a girl is having a dinosaur party.  So fun! 
You know I love to keep celebrations low-stress and inexpensive, but still really fun and special at the same time, right? I wanted to share some really simple ways to make a girl dinosaur party like in this picture here. 
I started with these cute little plastic dinosaurs from Dollar Tree. Yeah....$1.25 each.  Aren't they great? 
I picked PINK as my paint color and decided to use 2 different shades.  You could use spray paint, but for such a small amount of space to cover, I went with acrylic paint.  Martha Stewart Muti-Surface Paint (available at Michaels) is my favorite paint because it covers so well.  You can use any acrylic paint; you just might need a few extra coats to completely cover the color underneath. 
Here we go.....
So easy!
The T-Rex, with his little claws, was able to perfectly hold a flower! 
Next up...Party Hats! I used the printable template here and little pom poms for the top.  If the dinosaurs have small heads, you just need to roll the paper cone a little tighter to make it fit.  I also put the tiniest little dot of hot glue on the dinos' heads to make sure the hats stay on. 
The table is decorated with monstera leaves and silk flowers that I pulled off their stems.  I ordered the leaves from from Amazon. 
And the beautiful sprinkle mix is from Neon Yolk.  It's the absolute best place on the internet to buy pretty sprinkles! 
And the final touch...my personal favorite...the name cake topper.  With a mini dino on each end. 
You can order your personalized dinosaur cake topper here in your choice of 20 colors! 
Time to stomp and roar and party like a dinosaur! 
Avalon Sunshine cake toppers are the easiest way to decorate your cake without any stress or decorating skills.  They work great for traditional and non-traditional cakes...home-baked and store bought cakes. LET'S CELEBRATE!