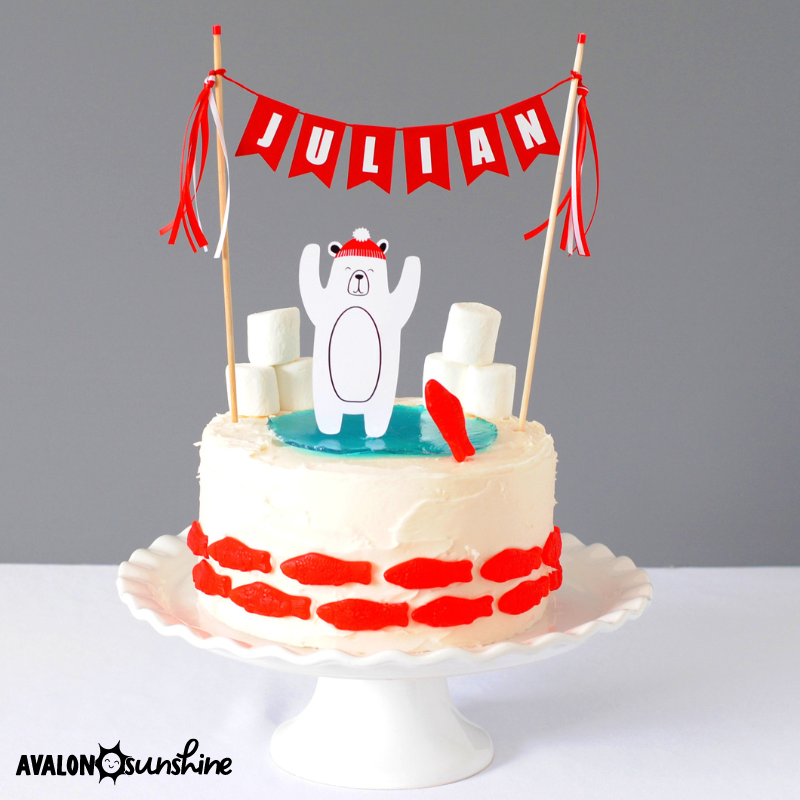 It's time for a Polar Bear Party!!  This is the perfect theme for a wintertime birthday celebration!  
I have tons of respect for cake decorators.  I don't have the patience or desire to practice that skill myself, but I love to bake cakes. So I kind of created my own style that I think of as "cake crafting" instead of decorating.
I use basic household and grocery store supplies and put them together in creative ways that anyone can replicate. Fool-proof and quick to make. 
Here are the details for a CUTE polar bear cake using blue Jolly Ranchers, red Swedish Fish and big marshmallows.  
My cake is 8" and I wanted the icy, blue pond to be about 5" wide.  I used a piece of aluminum foil and scrunched and folded the edges into a round shape the size of the pond, with a little lip all around the edge.  The lip will hold the jolly ranchers in place when they melt.
To Make the Jolly Rancher Pond
Preheat oven to 350
Unwrap Jolly Ranchers (I used 12 for a pond this size)
Put them into your pond-shaped foil with a baking sheet underneath
Bake about 10 minutes until all candy is melted
When the candy is cooled (15-20 minutes), peel off the foil
That's all!  A pretty, blue pond for the top of your cake.   
I knew I wanted to put the polar bear in the middle of the pond and he's connected to a stick that goes into the cake.  So after the pond was out of the oven for 5 minutes, and it was partially cooled and still on the foil, I used a toothpick and made a hole in the pond. If you catch the candy at the right time when it is gooey and sticky, but not too soft and not too hard, the hole will keep it's shape.  The candy will be completely cooled after about 15-20 minutes.  Then you can peel off the foil and you're ready to put it on your cake. 
And...your cake has a pond! Big wow factor with no fancy skills required!  
Next up....red Swedish Fish.  They are a great match to the red name banner and polar bear hat.  The fish really tie the whole cake together!  If you start adding the fish while the frosting is soft and fresh, they will stick, no problem.  
One little fish jumping out of the cake with a toothpick attached adds a little dimension and whimsy. 
A couple of stacks of marshmallow "snow" make a nice backdrop for Mr. Polar Bear. 
You can order the cake topper set with a personalized name banner and the polar bear right here.  It's available in red, pink and aqua. 
That's it!  Your impressively cute cake is done in a short amount of time!
If you aren't planning a polar bear cake but want to keep your cake simple with another animal theme, take a look at the Animal Cake Topper section of the shop.  Here's a preview of a few animals you will see there!  Click to see all the animals in the cake topper zoo.  
Avalon Sunshine cake toppers are the easiest way to decorate your cake without any stress or decorating skills.  They work great for traditional and non-traditional cakes...home-baked and store bought cakes. LET'S CELEBRATE!