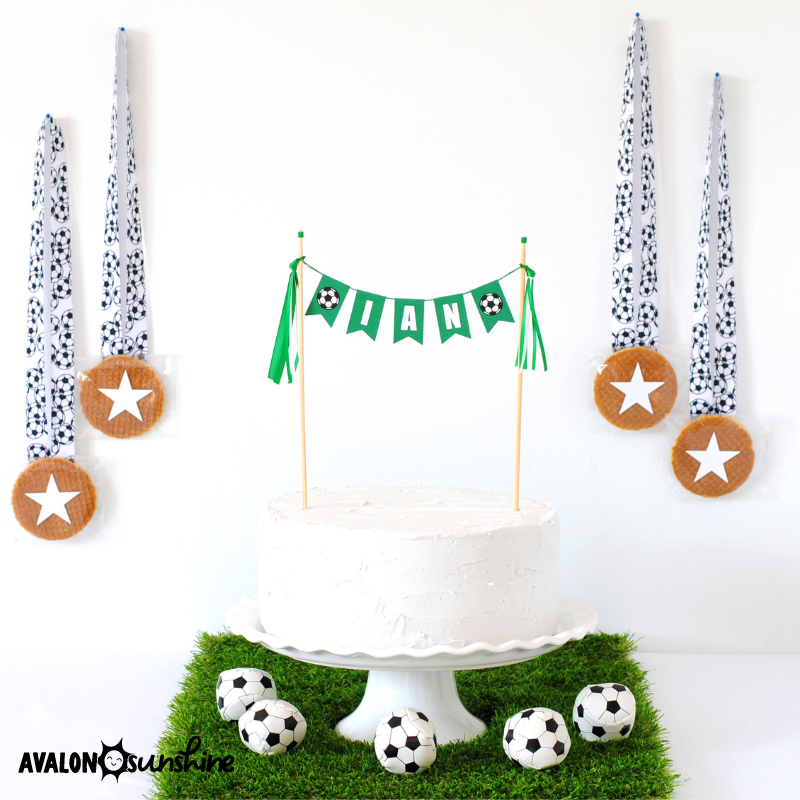 Ready to kick up some fun with a soccer theme party? The party decorations in this set-up are so simple with some artificial grass (lots of sizes available on Amazon) and party favor size little soccer balls.  The personalized cake topper with little soccer balls is perfectly simple and so fun! 
Now...let's talk about the gold medals.  They couldn't be easier to make!
Supplies:
Stroopwafels cookies (available at Costco in fall/winter season and at Target.com)
Clear Cello bags
White paper stars 
Soccer Ribbon (I got mine at Hobby Lobby)
tape
We are huge fans of these cookies in my house!  Dutch Stroopwafels are a two thin, crispy waffle cookies with a thick, gooey caramel layer in between. 
Start making your gold medals by putting each Stroopwafel cookie into its own cello bag and folding the top back so the cookie fits snugly. 
Cut your ribbon into 18" strips for an average child-size medal.  If you don't want to use soccer ribbon, gold ribbon or red, white & blue would be fun too! 
Using plain old scotch tape, tape the ribbon onto back of the cello bag.  I used 2 long pieces of tape for extra security.  You will need one piece to go across the very top.  If you don't, the cookie will flop forward when you wear the medal and it will just look goofy. 
The last step is to add a little paper star to the front with a little piece of tape.  That's it!  So simple!
You can hang them up as part of the party decorations, give them out when party games are over, or send them home as favors at the end of the party.  
They are sure to be enjoyed by all of your little soccer stars! 
If you need a personalized soccer cake topper, they are available for ordering in 20 different colors. 
Keep the party planning stress-free and remember that you just need a few special touches to make the party memorable.
Avalon Sunshine cake toppers are the easiest way to decorate your cake without any stress or decorating skills.  They work great for traditional and non-traditional cakes...home-baked and store bought cakes. LET'S CELEBRATE!