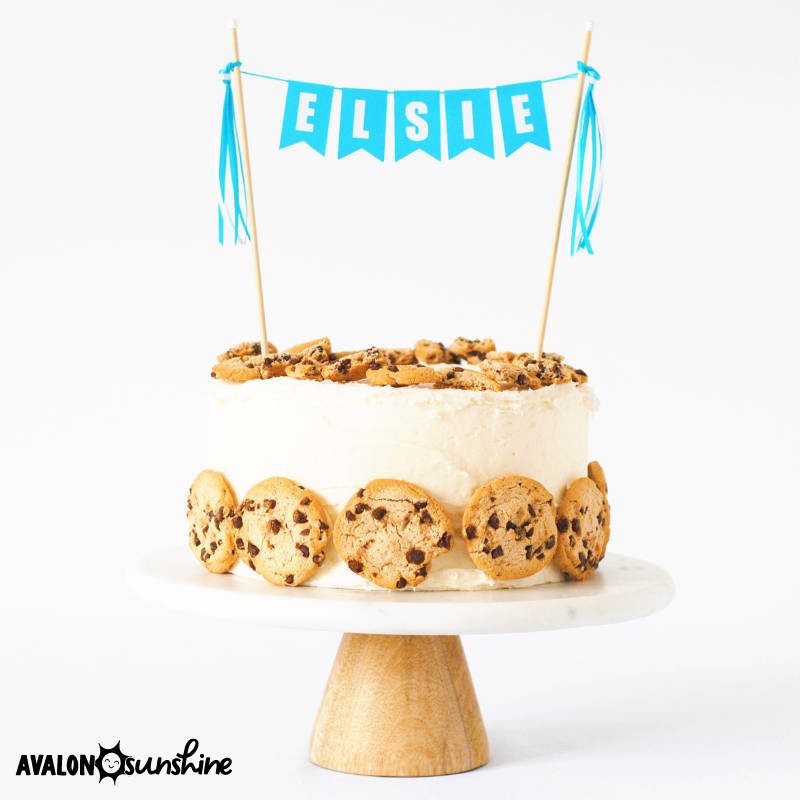 Listen up cookies lovers! Put together some cookies and a cake and you have a dessert worth celebrating!  
You can go from a plain cake to a party cake in just a few minutes!  It's really so easy I don't think anyone needs instructions, but here are some pics of the process anyway.  This plain cake is just begging for some love! 
I thought I was going to use mini Chips Ahoy cookies on top of the cake, but they have so few chocolate chips, they didn't really add the aesthetic to the cake that I wanted.  Broken up full size Chips Ahoy cookies worked better on the top of the cake.  The mini Chips Ahoy canisters make a great party favor, or just a side dish to the main course slice of cake.  
Obviously, you could use homemade chocolate chip cookies too.  I was going for quick, easy and fool-proof with this cake and Chips Ahoy was exactly that! 
The cookies stuck to the frosting and stayed exactly where I wanted them! Good job cookies! I think the cake looks pretty amazing with the cookies all around and crumbled on top, but that name cake topper kicks it up to the next level of special! 
You can get a personalized name cake topper to make your cake look completely customized for your loved one.  There are a ton of color options to pick from! 
It doesn't have to be expensive or difficult to put together an amazing birthday cake.  A few minutes and a little creativity are all you need! 
Avalon Sunshine cake toppers are the easiest way to decorate your cake without any stress or decorating skills.  They work great for traditional and non-traditional cakes...home-baked and store bought cakes. LET'S CELEBRATE!