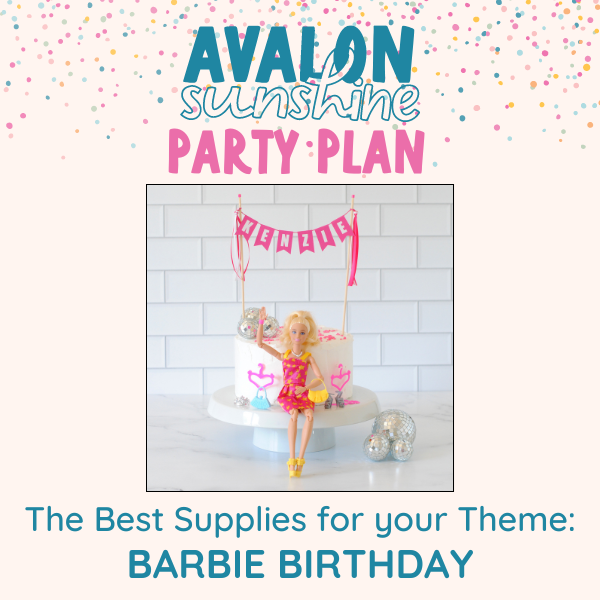 Avalon Sunshine Party Plan!
Avalon Sunshine Party Plans take the work out of planning your party! 
Keep scrolling for a curated collection of party supplies for a Barbie Birthday party. I already scoured the web for the best supplies from small businesses so you can feel good about shopping small while putting together the best party!   
This is such a unique party invitation for your little Barbie girl's celebration!  We all love the simplicity of an electronic invitation, but Video Evites takes it to the next level with an animated video personalized with all the party details.  Bring on the sparkles! 
This personalized Barbie shirt from Daisy Creative Designs is the perfect party wear for a Barbie birthday party!  Kids love to have their name on things so this shirt will make her feel so special on party day! 
Is it even a party without balloons? One Party Stop has this perfect set of Barbie balloons with all options to choose hearts or stars or add a pink Number balloon for a birthday. Balloons pack a decorating punch for a celebration!
Avalon Sunshine has personalized cake toppers for all of your birthday celebrations and this one is the perfect shade of pink for a Barbie party! 
Look how simple it can be to turn any plain white cake into a Barbie party cake in minutes!  Barbie can sit on the cake stand surrounded by her favorite accessories. If you don't want to buy a new Barbie, you can probably find all the supplies you need in your child's stash.  And, if you're feeling extra-fancy, some disco balls are just the right vibe and easy to find in craft stores. 
How adorable are these Barbie drink pouches from XO Fetti!?!  They are spill-proof and come with the pink twisty straws shown.  I think pink lemonade would be the perfect beverage for these pretty pouches and they can even be refilled and re-used after the party.  
Imagine your little Birthday Barbie Girl and her friends posing for a group photo with their matching pink heart sunnies from Brand Point Prep! So cute!! These will make the girls feel so fancy at the party and a great party favor to take home.  Perfectly Barbie! 
These perfectly pink and shimmery tattoos from XO Fetti have all the icons of the Barbie lifestyle!  I love these to either put on together with friends at a birthday party or to send home with guests as a party favor.  Either way, the kids will surely love them! 
Throwing a birthday party is fun but can also be overwhelming to put everything together. This guide is to take the stress off of your plate with the ultimate list of handpicked items to pull everything together! LET'S CELEBRATE!