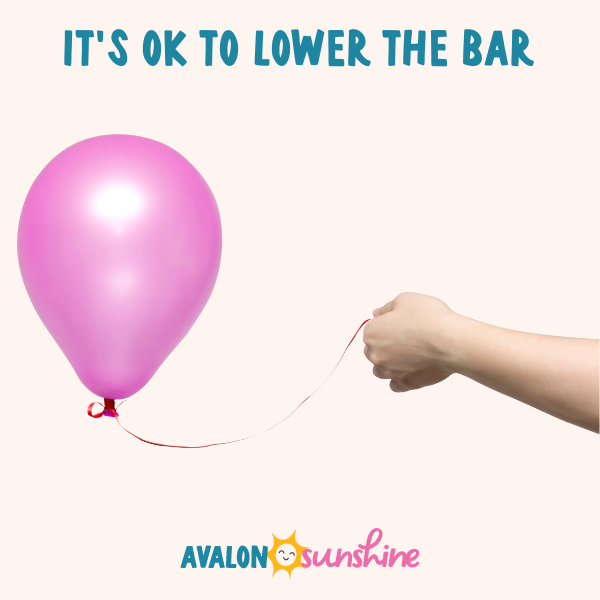 Hi. I'm Erica and I'm a recovering Pinterest mom.
Right from the start, I was a Pinterest girl. I snuck in a shameful number of hours on the platform while working at my office job back when Pinterest was still an invite-only place.
I started a board with Pins I've Tried and it was over 350! It's how I lived my life.  So of course, when I became a mom, I assumed I'd be in all of my glory as a "Pinterest Mom".  
There are two specific events in my motherhood journey that changed my outlook on what it means to create childhood magic. The result was lowering the bar on our celebrations and it made us a happier family. 
I don't want to suck the helium from your balloon if fancy celebrations with lots of planning make YOU (the mom) happy.  But if you secretly dread the details and do it for your kids....please read on. 
Lowering the Bar on Birthday Parties
I was so excited about the first party I threw for my son where we invited his little daycare friends to our house for an actual party. It was a superhero theme and I made each kid their own cape or Wonder Woman skirt. There was a superhero training course in the basement complete with silly string to spray the villains and fake dumbells for lifting big weights. I made a 3 tier fondant-covered cake and all kinds of custom decorations. The kids were bored of the training course in about 5 minutes and ended up playing with all of the regular toys in the basement. 
The next big party idea I had was a Mad Scientist theme for my science-loving kiddo. I went all out with personalized lab coats for each kid and safety goggles and clipboards. We exploded and fizzed and slimed all kinds of stuff. The kids had fun, but when it was over, I was so DEAD. The exhaustion from planning and running the party, not to mention the expense of all of the supplies was simply not worth it. My son had fun and thought the party was great but when all the little friends left, all I could think was I NEVER WANT TO DO THAT AGAIN! 
So, I didn't. And guess what...my kids have still had fabulous birthdays with amazing memories full of love and joy and friends and family (and a mom who wasn't completely stressed out while she was cutting the cake). What I realized after that Mentos and Diet Coke party was that my kids weren't even asking for this type of party. I did it to myself!  Kids just want cake and present and attention. I learned to keep things simple. It's OK to lower the bar on those kid parties. 


Abandoning Family Traditions
When my kids were toddlers, I was a little obsessive about starting family traditions. I worked full-time and wanted to make the most of the time I had with them so they would grow up with all the warm, fuzzy holiday memories.  
When my kids were 2 and 4, I made this whole advent box situation inspired by Pinterest. I wanted more than the store-bought calendar with tiny chocolates, but this was years before all the creative countdown options were in mainstream stores like they are now. My creation was so cute! I decorated 24 little boxes and each day would have a treat, or a little paper with a fun family activity we would do together that day. I was going to do this every single year and it would become something my kids would anticipate and love every December. Sounds sweet and cozy, right?  
Well, the reality was...daily child meltdowns over these boxes.
Whose turn was it to open the box? 
Who cried because they didn't like the treat that was in the box that day? 
Who was mad because they wanted candy instead of popcorn and The Grinch.    
Instead of joyful December memories, these kids were acting like entitled little tyrants. I tried to talk through the behaviors with them, but at ages 2 and 4 after a long day of day daycare, there was no reasoning. Half way through the month, I took a deep breath and realized that I didn't have to continue. Done. Abort mission. 
I considered saving the boxes for future years when the kids were older and more ready to handle the situation. But this expectation of the kids wanting to get a surprise every day, was too much. Not just a surprise, but a really good surprise. Even though it was my idea in the first place, it didn't feel like it was aligning with the values I wanted for my family. 
Maybe I can't even count this as a tradition because we quit after one year, but it's a reminder that YOU get to decide what traditions fit with your family and when it's time to move on.  
And a Bonus lesson....about that damn elf! 
I started with the Elf of the Shelf in 2010 when my first child was 3 years old and the elf wasn't super mainstream. It sounded like a fun idea and it moved from one place to another in the house every night like the storybook says.  
That's all. Sprinkles the Elf NEVER did anything else. He didn't bring gifts. He didn't cause mischief. He didn't set up scenes of marshmallow bathtubs or change clothes or have pets. And my kids still loved it. 
As the entire country caught Elf Fever a few years later with the next-level ideas, I couldn't bring myself to add one more thing to my mental load in an already crazy month. Once again...keeping the bar low left enough time and space for me to choose other ways to celebrate the season instead of resenting the obligation of an over-zealous elf. Ways that would make the kids AND me happy. The memory-making is about the kids, but it's about the moms too.  WE matter! 
Final thoughts…you do you, Boo!
If elaborate parties and nightly elf shenanigans make you happy, go for it. BUT....if they make you want to die a thousands deaths, just know that you can still make happy childhood memories with your kids on your own terms.  
When you are intentional about celebrating the way YOU want to, the genuine joy will come through and the whole family will feel it.
Avalon Sunshine cake toppers are the easiest way to decorate your cake without any stress or decorating skills.  They work great for traditional and non-traditional cakes...home-baked and store bought cakes. LET'S CELEBRATE!