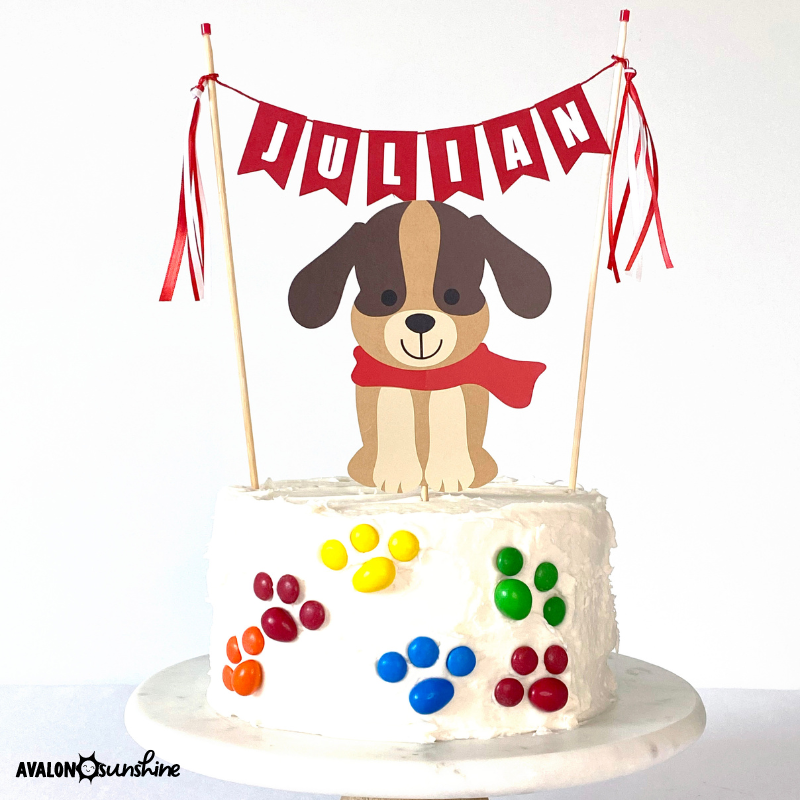 It's Pawty Time!  Here is another super-simple cake decorating idea for your dog theme party cake!
To be clear...this idea uses chocolate and is intended for a human birthday party with a dog theme, not a birthday party for your pup :)
You can start with a plain homemade cake or a grocery store cake and turn it into a dog theme party cake in just a few minutes! 
You will get the best paw print effect with two different sizes of M&M's.  I used a combo of almond M&M's and plain M&M's but you could use peanut, or peanut butter in place of the almond variety. Decide which colors you want to use and do a little sorting. 
Then start adding them to the side of the cake in a paw print arrangement applying light pressure to help them stick to the frosting!
Add a personalized cake topper from Avalon Sunshine and you're ready to PAWTY! The name banner is made to match the color of the pup's scarf and is available in red, blue or pink. 
The entire transformation only takes a few minutes and it looks so cute!  Any pup-loving child will think this is fabulous! 
 For another equally cute and simple dog cake idea using Scooby Snacks, take a look at this blog post!
Avalon Sunshine cake toppers are the easiest way to decorate your cake without any stress or decorating skills.  They work great for traditional and non-traditional cakes...home-baked and store bought cakes. LET'S CELEBRATE!