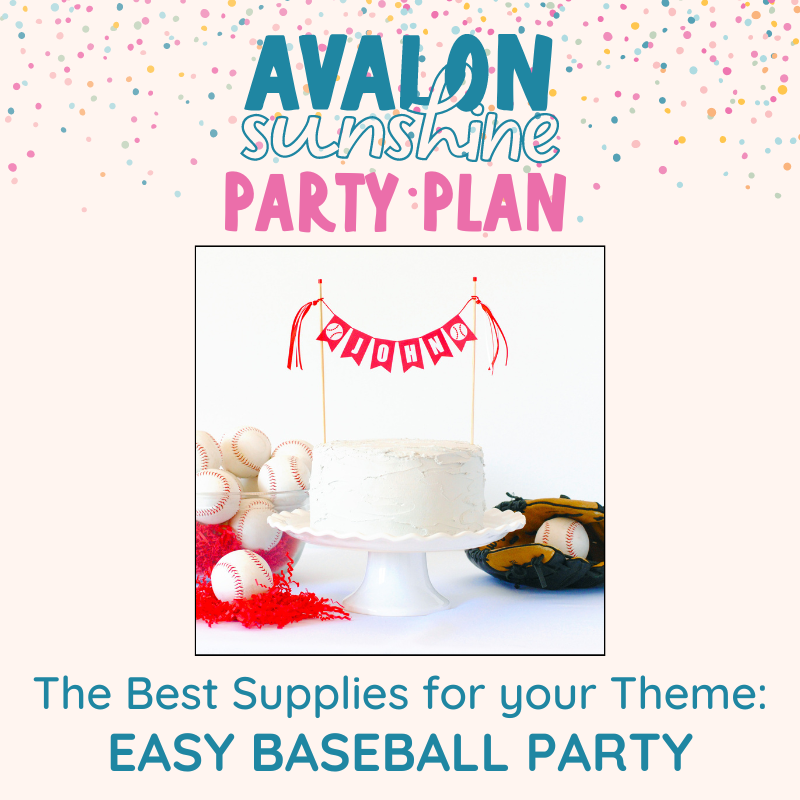 Avalon Sunshine Party Plan!
Avalon Sunshine Party Plans take the work out of planning your party! 
Keep scrolling for a curated collection of party supplies for an easy baseball theme birthday party! I already scoured the web for the best supplies from small businesses so you can feel good about shopping small while putting together the best party!   
This baseball themed birthday party guide has everything you need to knock it out of the park! 

Deck out the birthday boy or girl with a custom baseball t-shirts from Shining Pearl Clothing! You can pick the number and t-shirt color to look fabulous in those birthday party pics!
These baseball balloons from Basically Balloonz make a great addition to your cake table or even outside tied to your deck! Pick the number to match your child's age and you're ready to party!  Fill in with red and white latex balloons or keep it simple with just these.  You can't go wrong with balloons! 
When you think of baseball, do you also think of hot dogs and popcorn? I know I do! This iconic popcorn box from Home Hoopla and hot dog foil bags from Outside the Box Papers would be such cute detail to add to your party. Super simple foods to prep and finger foods are the best party foods! 
Step up your cake game with this custom Baseball Cake Topper by Avalon Sunshine.  Add your little one's name and choose from 20 different colors!  You can add this to any homemade or grocery store cake for a baseball theme cake with zero effort. 
You've got the decor, now it's time to send out the invitations! This baseball super fun and sporty invitation by InstantInvitesSAS is super quick to use and send out. After you personalize the template, you have the option to print and mail, or take the easy route and send them digitally! 
Prop this Autograph sign by Deerly Designed next to the cake, drop a baseball and a sharpie for all of the party guests to leave an autograph.  It becomes a sweet keepsake for your little one to have for years to come! 
Throwing a birthday party is fun but can also be overwhelming to put everything together. This guide is to take the stress off of your plate with the ultimate list of handpicked items to pull everything together! LET'S CELEBRATE!