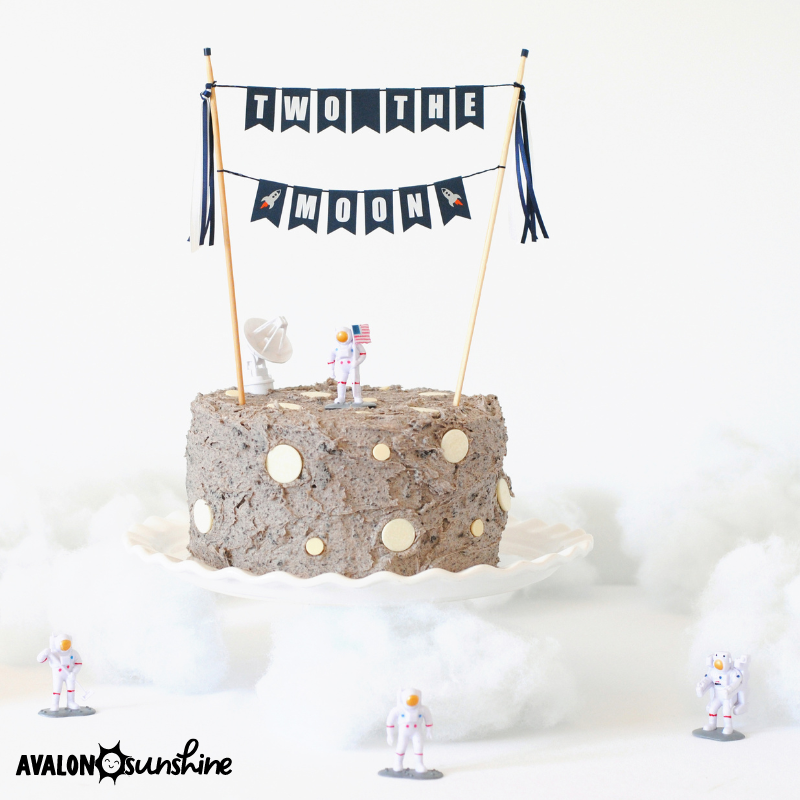 Outer space themes are trending for kids decor and I know this will be popular for parties too. I was browsing Pinterest to see what kind of cakes people are doing and let me tell you....it's insanity! 


People are actually baking the whole galaxy inside of a cake so when you cut the cake you can see planets.  And there are "mirror glaze galaxy cakes" that they have the audacity to call "easy." 


To the moms of the world who aren't professional bakers, I'll be keeping it realistic over here with a cake you can decorate before Bluey is over.  Anyone can slap the word "easy" in their title but it means nothing. Those gold-leaf galaxy cakes are Pinterest-fails waiting to happen unless you're a professional.  THIS moon cake really is easy enough for anybody to make. 


As always, here's a little cake topper love to get the party started because who wants to pipe words with frosting? 
You can use any kind of white frosting you want for this cake.  I used some frosting in a can to save some time but it would be delicious with a buttercream frosting too! And, OREO cookies! You won't need the whole package, so there will be plenty left to snack on.  That's important.  
Crush up the Oreo cookies in whatever way you want.  I used 12 Double Stuf cookies and chopped them up in the blender.  A Ziploc bag and a rolling pin would work too.  


Keep going until you have mostly small crumbles but it's ok if there are still some bigger chunks.  They will just add to the texture of the moon surface. 
Then just stir the Oreo crumbs into your frosting until it is a uniform color. 
I recommend tasting the frosting at this point because it is HEAVEN! 


Then go ahead and frost your cake.  The best part is that you don't even have to smooth out the frosting.  It's supposed to look bumpy...like the surface of the moon! 
It's already looking great, but the next part is so simple and takes it from a grey cake to a MOON cake!  Use white chocolate chips for the small moon craters and white melting wafers for the big moon craters.  I used the Ghiradelli brand for both but any brand will work.  If you can't find the melting wafers at your grocery store, you can definitely find them at any craft store. 
Just start adding the craters in random spots until you're happy with the surface of your moon.  Make sure you stick them on the cake upside down, so the flat parts of the chips/wafers are facing out. 
Poly-fil stuffing around the cake makes a fun and easy cloud scenery for the table!  And I added some little astronaut figures that I found on Amazon to the top of the cake.  
That's all there is to it!  About a million times easier than the galaxy cakes I mentioned at the beginning.  And you'll probably want to make this frosting again, even if you're not making a moon cake, because it's just that good! 


Order your
TWO THE MOON
cake topper right
here
!  I hope your party is out of this world!! 
Avalon Sunshine cake toppers are the easiest way to decorate your cake without any stress or decorating skills.  They work great for traditional and non-traditional cakes...home-baked and store bought cakes. LET'S CELEBRATE!