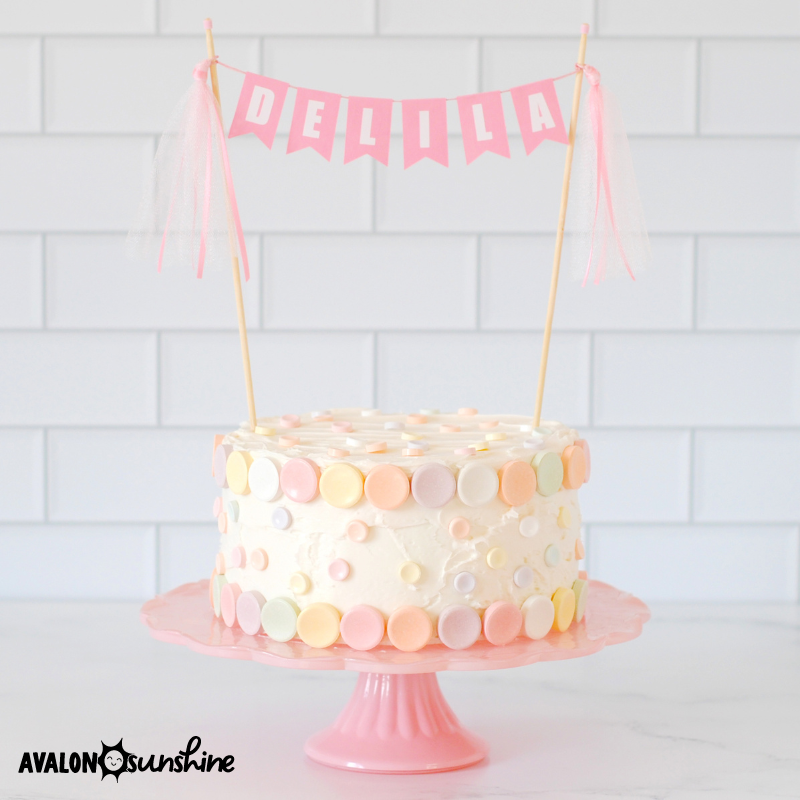 I love to bake. But I have no skills or patience for frosting piping bags.  That doesn't mean I want to serve up a plain-looking or ugly cake.
Decorating your cake does NOT have to be complicated and definitely does not need to take hours! I have 3 amazingly simple cake decorating ideas that you can do in just a few minutes before your party starts!  
You could even start with a plain grocery store cake and use any one of these ideas to make the cake look fancy and fabulous! 
1. A Sophisticated Cake with French Macarons
I love the elegant decadence of French Macarons and they look beautiful on top of a cake! You can find them at Whole Foods, Costco in the freezer section and I've even seen them at WalMart in the refrigerator case by the bakery!
      
Macarons come in so many beautiful colors!  This pack matches perfectly with the Avalon Sunshine Boho Rainbow Party Cake Topper. A cake topper adds more height to any cake making it more of an attention-grabber statement piece. 
2. Marshmallows & Cotton Candy Dreams Cake
Cake with more sweets on top? Count me in! You can add more color and fun to your cake with these Yummallo Marshmallows and Fluffy Stuff Cotton Candy! I found both of these at my local WalMart. 
Grab small pieces of cotton candy and place it around the bottom of your cake and then simply add your favorite marshmallow pieces around the cake. Add on your personalized Cotton Candy Colors Cake Topper and some sprinkles and you're party ready!  
3. Smarties & Frosting: A Taste Combination Like a Party in Your Mouth
You'd be a Smartie to try out this delicious cake idea! Smarties on top of a cake was kind of a happy accident!  My niece was having a Candyland themed birthday and wanted all different kinds of candy on her cake.
Things like Laffy Taffy, Smarties, gummies and Starbursts...they might not make sense on a cake, but kids will eat anything if it has sugar, so we did it.  The overall result was a bit weird, but....
We were shocked at how GOOD the Smarties were with the frosting! You get the crunch from the Smarties and the smoothness of the frosting and they just paired so well! 
On this cake, I used a combination of the Mega Smarties and the regular size to decorate the cake. Place them around the cake while the frosting is fresh. I did the Mega Smarties on the top and bottom with the smaller in between, but have fun with it!
Don't forget that a personalized name cake topper is the easiest way to take your take to the next level of specialness! This Pink Name Cake Topper with Tulle Tassels is such a girly, sweet topper! 
Avalon Sunshine cake toppers are the easiest way to decorate your cake without any stress or decorating skills.  They work great for traditional and non-traditional cakes...home-baked and store bought cakes. LET'S CELEBRATE!